It takes sharp eyes 色 to see at night 晚
Mandarin I Berkeley Extension – Class 2 – Sept. 13, 2011
425 Market Street
San Francisco, CA
Professor: Virginia Mau (pronounced "Mew")
Email: vmmauhk@yahoo.com
Notes taken and commentary (marked by"Note:") by Jennifer Ball (because of the typeface which I must use to render the Chinese characters correctly, extra spaces are occasionally seen before and after apostrophes and quotes).
Ms. Mau's birthday: June 18, 2011 (Changed to protect her privacy; she says, don't ask age, it's rude.)
二
零
一
一
年
六
月
十
八
号
èr
er4
two
líng
ling2
zero
yī
yi1
one
yī
y1
one
nián
nian2
year
liù
liu4
six
yuè
yue4
month
shí
shi2
ten
bā
ba1
eight
 hào
hao4
day
Hao4 号 is oral only; written it would be ri4 日.How to ask the date:
今
天
几
号
Jīn
Jin2
Today
tīan
tian1
is
jī
hi1
which
 hào
hao4
date?
今
天
是
几
月
几
号
Jīn
Jin1
tīan
tian1
shì
shi4
jī
ji1
yuè
yue4
jī
ji1
hào
hao4
Today is which month which date?
今
天
是
九
月
十
四
号
Jīn
Jin1
tīan
tian1
shì
shi4
jiǔ
jiu3
yuè
yue4
shí
shi2
sì
si4
 hào
hao4
Today is September, 14th.
昨

天

是

九

月

十

三

号

Zuó
Zuo2
tīan
tian1
shì
shi4
jiǔ
jiu3
yuè
yu34
shí
shi2
sān
san1
 hào
hao4
Yesterday was September, 13th.
明

天

是

九

月

十

五

号

Míng
Ming2
tīan
tian1
shì
shi4
jiǔ
jiu3
yuè
yue4
shí
shi2
wǔ
wu3
 hào
hao4
Tomorrow will be September, 15th.
Aug. 19th, Chinese Lunar New Year. (I'm the year of the chicken 鸡 .)
The Chinese calendar is a lunisolar calendar, incorporating elements of a lunar calendar with those of a solar calendar. It is not exclusive to China, but followed by many other Asian cultures as well.[1] In most of East Asia today, the Gregorian calendar is used for day-to-day activities, but the Chinese calendar is still used for marking traditional East Asian holidays such as the Chinese New Year (the Spring Festival (春節)), the Duan Wu festival, and the Mid-Autumn Festival, and in astrology, such as choosing the most auspicious date for a wedding or the opening of a building. Because each month follows one cycle of the moon, it is also used to determine the phases of the moon. The year 2011 in the Chinese calendar is the Year of the Rabbit. It began on February 3, 2011 and will end on January 22, 2012. According to traditional beliefs, some form of the calendar has been in use for almost five millennia. Based on archaeological evidence some form of it has been in use for three and a half millennia. The year 2011 is reckoned in the seldom-used continuously numbered system as 4708 or 4648 (depending on the epoch used)…" (Wikipedia).
Ms. Mau says only tourists say 你好 "Ni3 Hao3." It is considered cold and distant, a formal expression
吃了吗
Chi1 le ma?
"What's going on?" (literally "Have you eaten?")
吃了
吃
Chi1 le.
Eaten.
 or Mei2 chi1
or Not eaten.
You would say, "Ni3 hao3" to your neighbor the first time, and then after that, something
else. Say instead:
怎么样?
Zeng3 me yang4?
Even more casual is: Ze3 me yang4?
What's happening? What's up? How have you been?
Answers:
好 – Hao3 – good
不 好 – Bu1 hao3 – not good
很 好 – hen3 hao3 – very good (hen3 sounds like "hung")
不 很 好 – Bu hen3 hao3 – not very good
非常好 – Fei1 chang2 hao – "not ordinary good," hence, very good
马马虎虎 – ma3 ma3 hu1 hu1 – so-so (horse, horse, tiger tiger)
馬/马 – (traditional/simplified horse, ma3)
(Ms. Mau says this expression relates to kid's cartoon, Xiǎo Mǎ Hǔ. I could not find any  mention of this on the internet.)
你 呢 – Ni3 ne – And you? (literally "You" question particle)
我 也 很 好 – Wo3 ye3 hen3 hao3 – I also very good.
What's the meat price today? That's how cool people greet now.
other appropriate phrases include:
你离了吗?Ni li le ma?" using the 'li' from 离婚 lihun, which means to divorce! They're not really asking "Have you divorced?" – it's more a crack about how much the divorce rate in China has risen. It is still nowhere near the divorce rate in the US, but it is much higher than it used to be even 20 years ago!
These days some city dwellers instead of asking "Have you eaten yet?" ask "Where are you in traffic?"! (堵车 duche = to be stuck in traffic)
生 日 Sheng1 ri4 = Birth day: day you were born
我 生 日 是 五 月 十 九 号
Wo3 sheng1 ri4 shi4 wu3 yue3 shi2 jiu3 hao4.
My birthday is May 19.
谢谢
xie4xie (shay she-ay)
Thank you
再見
Zai4 jian4
Good-bye (literally "again to see")
早 Zao3 = morning
(Ms. Mao says, "Tao is rude, so make sure to get the 'Z' sound in the beginning.") There are 25 meanings of "tao" in all four tones. Possibly Ms. Mao means 檮 táo, which translates as "blockhead, piece of wood." Or could she mean 饕 tāo: gluttonous? Or perhaps 討/讨 tǎo: ask for; send punitive expedition; to demand; to marry? A punitive expedition that ends in marriage is always rude.)
上 Shang4 = up. 下 Xia4 = down
早 上 好 Zao3 shang4 hao3 = Good morning (early)
上 午 好 Shang4 wu3 hao3 = Good day (10-noon, or 11-1 says Mandarin Tools)
下 午 好 Xia4 wu3 hao3 = Good afternoon.
晚 上 好 Wan3 shang4 hao3 = Good evening.
安 An1 = peace
晚 安 Wan3 an1 = Good night
請/请 qing3 = to ask; to invite; please to treat (to a meal, etc); to request
When the check come, 你 请 ni3 qing3 means "you pay for it."
我请 wo3 qing3 means "I pay for it."
第 di4 designates an ordinal number: first, second, third, etc.
課/课 ke4 = lesson, class, subject
According to MandarinTools.com, ke4 also means "to woof." 緙/缂. The question being does "to woof" mean "throw up" or "bark"?
第 课 di4 wu3 ke4 = 5th lesson, wu ke = 5 lessons
文 Wen2 = literature, arts, gentle, quiet
Pronounce these like you have a cold:
g
guah
k
kuah
h
hua
j
gee
q
chee
x
shee
雞/鸡
ji1 is chicken
curl tongue:
zh
ztzer
ch
chure
sh
sur
r
er
flat tongue:
U goes with everything except for what ü goes with, which is: j, q, and x, but when ü mixes with j, q, or x, the umlaut disappears.
知道 zhī dào (zhi1 dao4) = I know (this dao4 is the same as Tao, meaning "the way," of Taoism, and you can see that there is a path in this character)
好滋味 hǎo zī wèi (hao3 zi1 wei4) = taste good
(Not sure what these words connect to; will find out.)
y like i, w like u, ee like i, but e is a fake smile.
明 晚 天 Ming2 wan3 tian1 = see you tomorrow
下 个 星期二见 xià ge xīngqī èr jiàn (xia4 ge sing1 qier1 jian4) = See you next Tuesday (er4 = second day of week)Literally "next ge week day two, see."
Ge is a general classifier for things. Like we say "two sheets of paper" rather than "two papers."
I found this at urbandictionary.com when I was searching the above term:

見/见 jiàn (jian4) = to see/to meet/to appear
上 shàng (shang4) = before (and on; up; on top; upon; first (of two parts); previous or last (week, etc.); upper; higher; above; previous; to climb; to go into; above; to go up)
上星期 shang4 xing1qi1 = last week
Left/right:
左 
右
zuǒ (zuo3) pronounced "tsuo"
left
  yòu (you4) pronounced "yo"
right
Front/back:
前
後/后
qián (qian2) pronounced "chi-en"
front
 hòu (hou4) pronounced "ho
back
Ms. Mau says, "Map of China looks like a chicken." (I think the head is upper right.)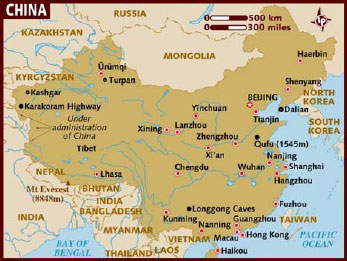 東/东 dōng (dong1) = east
南 nán (nan2) = south
西 xī (xi1) = west (pronounced "sshe")
北 běi (bei3) = north
Between points are referred to as "eastnorth" or 东 北 dong1bei3; "eastsouth" or 北 南 dong1nan2; westnorth or 西 北 "xi1bei3"; and westsouth or 西南 "xi1nan2."
The directions go east, south, west, north in Chinese, but the character of west makes one wonder at this order. There are four compass points, and the character for "west" looks very similar to the character for "four" and the pronunciation is very similar. They also share a similarity to the "wine" character, and as the sun sets in the west, this implies that happy hour is a very old concept.
京 jīng (jing1) = capital
Beijing = north capital
Thoughts on eyes:
晚 wan3 = night (you need sharp eyes to see at night)
色 se4 = color, look, appearance (you needsharp eyes to see color)
靶 ba4 = target, bull's eye
Note the similarity of the above three characters. All include a form of two rectangles which stand in for eyes. The "r" looking character on the first two means "horn" 角 or some kind of sharpness. It takessharp eyes to see both color and at night. In the third example, the radical on the left is a bull, therefore the character on the right in this instance resemble eyes, for the definition: bull's eye. Note also that the second one, meaning color, is "se" in Pinyin, not far from the English word, "see."
Chinese characters and definitions from:
http://ctext.org/dictionary
http://www.mandarintools.com/