Grain has symbolic meaning in China
Mandarin I Berkeley Extension Class – 11 – Nov. 22, 2011
425 Market Street
San Francisco, CA
Professor: Virginia Mau
Homework: Menu
Include:Name of restaurant
Phone
Hours
Food inside with prices
Ms. Mau is going to be the customer and give us a hard time. We are the wait staff.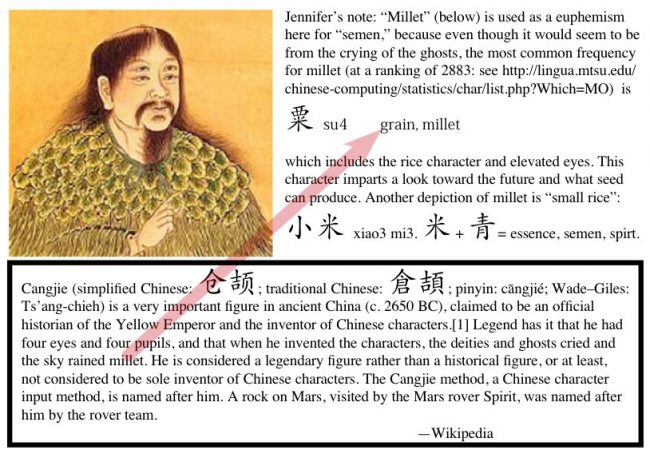 miao2 = "(same as 
媌 
) good looking, a prostitute": Chinese Text Project, Mandarin Text Project, Wik-
tionary, Cojak.org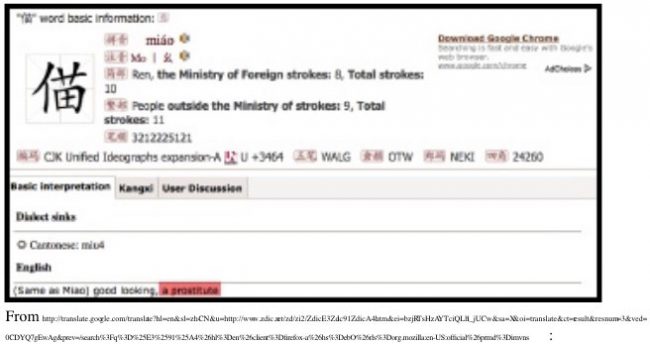 "Ministry of Foreign Strokes" sounds a lot like the description of a prostitute's job. Since Ms. Mau
claimed that this character didn't exist, I'm spending some time to show that it in fact does, and it has a
lengthy record.
fang2 dong1 = landlord ("room or house east": does "east" mean "lord" because that's where the sun
rises?)
lei4 = kind; type; class; category; similar; like; to resemble (Jennifer's note: Again with the rice charac
ter. It's used as a metaphor for semen, seed, and similarity. Did you notice that rice is also in "come" lai2
来 
? 
Knowing this will help you retain meanings.)
Ms. Mau: "Tiger tastes like pork." See? We all use metaphor.
Geary and 17th : China Creations makes Chinese desserts
 ji3 wei4 = ① several people (honorific) ② Ladies and Gentlemen! (talaqa.com) (Ms. Mau
said, "How many? (more polite)" (Ms. Mau says: Do not need "ren2" because "side man
radical" is 

present in wei4 
位)
san1 pei2 xiao3 jie = "ladies of the three accompaniments"). In theory, the "three accompaniments" are
chatting, drinking and dancing with their clients. In practice, the "three accompaniments" more often re-
fers to dancing with, drinking with, and being publicly groped by their clients. These women often begin
by allowing their clients to fondle or intimately caress their bodies, then if the client is eager, will engage
in sexual intercourse." Wikipedia: Prostitution in the People's Republic of China
xi hu cha = one pot of tea
lai2 yi1 bei1 jiu3 = bring one cup of wine
lai2 yi1 bei1 shui3 = bring one cup of water
gan1 bei1 = cheers ("dry cup")
 you2 cai4 dan1 ma? = you have menu? (Remember cai is pronounced tsai.)
qing1 gei3 wo3 yi1 fen4 = please give me one p

iece [of table setting]
gei3 = give, to (pronounced "KKay! extra K means hit beginning extra hard)
fen4 = (a measure word for gifts, copies of a newspaper); copy (of newspaper, magazine, etc.);
share; portion; part; (a measure word)
neng2 gei3 wo3 fen4 cai4 dan1 = Are you able to give me the menu?
dan1 = ① bill ② list ③ form ④ single ⑤ only ⑥ sole ⑦ odd number
qing1 lai2 xia4 = please come
ni3 yao3 chi1 dian3 er4 shen2 me? = you want to eat for a little 

bit?
chi1 = ① to eat ② to have one's meal ③ to eradicate ④ to destroy ⑤ to absorb ⑥ to suffer
⑦ to exhaust
dian3 = ① point ② dot ③ speck ④ drop ⑤ decimal point ⑥ point of a scale ⑦ point in a
theory or argument ⑧ downwards-right convex character stroke ⑨ a little (usually 一點|一
点) ⑩ a jot 11) beat (of percussion instrument) 12) to draw a dot 13) to touch slightly 14) to
drip 15) classifier for items 16) classifier for small indeterminate quantities 17) to nod 18) to
select item from a list 19) to order (food in a restaurant); to count ⑴ o'clock ⑵ one fifth of 
a two hour watch (old) ⑶ hour ⑷ point of time ⑸ iron bell (used to mark time) ⑹ pastry ⑺
dimsum
 yao shen me = fast food ***NOT SURE THIS IS CORRECT
wai4 dai4 = takeout (fast food) according to Talaqa.com
lai2 dian3 er = Please come for a little
chi1 fan4 = to eat a meal
fan4 = ① food ② cuisine ③ cooked rice ④ meal
 jin1 tian1 de tang1 shen2 me = What is today's soup? (Note that "soup" 
汤 
has the 
water radical and something that looks like an animal, which would connote a broth.)
qing jie2 zhang4 = please bill/check/agreement
 jie1 = ① to bear fruit ② to produce ③ firm ④ solid
 jie1 = ① to bear fruit ② to produce ③ firm ④ solid ① knot ② sturdy ③ bond ④ to tie ⑤ to
bind ⑥ to check out (of a hotel)
zhang4 = account (pronounced "JJong")
wei4 dao4 zen3 me yang4? = How's the taste? (pronounced "way tao se me yang")
dao4 = ① direction ② way ③ road ④ path ⑤ 

principle ⑥ truth ⑦ morality ⑧ reason ⑨
skill ⑩ method 11) Dao (of Daoism) 12) to say 13) to speak 14) to talk 15) classifier for long
thin stretches, rivers, roads etc 16) province (of Korea do 17), and formerly Japan dō)
wei4 dao4 bu4 hao3 = not good
甜

咸

苦

辣

酸

淡

tian2
sweet
xian2
salty
ku3
bitter
la4
spicy
suan1
sour
 dan4
plain
太 
tai4 = ① highest ② greatest ③ too (much) ④ very ⑤ extremely (and represents a
breast with milk, as in taitai 
太 太 
"Mrs.")
(Not sure about these. No definitions given or characters written on the board by Ms. Mau.)
shou2/shu2 = ① cooked (of food) ② ripe (of fruit) ③ mature (of seeds) ④ familiar ⑤ skilled
⑥ done
sheng1 = ① to be born ② to give birth ③ life ④ to grow ⑤ raw, uncooked
sheng1 bu4 sheng1? (Newly weds with rice balls, double meaning is is raw? is birth ahead?)
wo sheng – Last Emperor never had children - could not find this info or phrase
dou1 xiao xian = (not sure what this is)
fei4 = ① to cost ② to spend ③ fee ④ wasteful ⑤ expenses
chuang2 fei4 = bed fee (don't say this; this is the joke if you mispronounce chuan2)
che1 fei4 = transportation fee
xiang1 gang3 = Hong Kong ("smells good harbor")
chou4 dou4 fu = stinky tofu
 Jackson & Kearney. Only open on weekend; too many complaints weekdays
shi3/chi4 zi = spoon as well as
can1 zhi3 = napkins ("meal paper")
can1 jin1 = napkins ("meal cloth")
can1 = eat, meal (second character is "semantic variant" as opposed to "simplified")
 ju2 zi = tangerine (more popular character)
 jin1 ju1 zhi = golden tangerine
 jie3 = bear (fruit) / to produce / firm/ solid
吉
= lucky; auspicious; propitious
ti2 zi = grapes (hard to peel)
pu2 tao2 = grapes (bigger, NE China)
mi3 gua1 = honeydew melon
si do be lei = strawberry (Cantonese; phonetic)
lan2 mei2 (or la2 mei2?) = blueberry
xiang1 jiao1 = banana (xiang1 means "fragrant," etc.)
shi4 zi = persimmon
Ms. Mau (Mew): "You can't eat persimmon with crab or peanuts or you will get sick." And frankly, who
would want to?
che1 li2 zi = cherries (Cantonese, phonetic)
shí liú = the pomegranate (the first 

character means "stone," the second character means "pomegran
ate")
榴蓮 (榴≠木留
, which is what I did at first)

蓮/莲 
= lotus (the similarity of the durian to the lotus is their smell)
留 
= leave (message); to retain; to stay; to remain; to keep; to preserve
The use of the word "preserve" indicates why this might be in the words for fruits, as in
English we also use the word "preserve" to mean a jam or jelly. Has one "preserved" it 
because one has diced the fruit into a paste?
yang2 tao2 mu er = star fruit
萇/苌 
= carambola (official name for star fruit)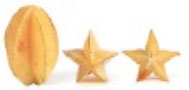 plant mentioned in Book of Songs, uncertainly identified as carambola or star fruit (
Averrhoa carambola )
variant of 楊桃 | 杨桃 [ yang2 tao2 ]
plant mentioned in Book of Songs, uncertainly identified as carambola or star fruit (Aver-
rhoa carambola )
qi4 yi4 guo3 = kiwi (from Ms. Mau)
奇 
= strange; odd; weird; wonderful
異/异 
= different; unusual; strange
huo3 long2 guo3 = dragon fruit
Puns: (I'll get these later from some experts…)
lang2 lie le = yang tao3?
zhī xié shī = juice, liquor, uid, sap, gravy, sauce
zui4 = the most, the worst
nan2 gua1 zi = pumpkin seeds ("south gourd seed")
xiang1 gua1 zi = sunflower seeds
葵花子 
= sunflower seeds ("sunflower flower seed")
向日葵 
= sunflower seeds ("towards sun sunflower" or perhaps "opposite to sun sunflower")
xiang4 = direction; part; side; towards; to; guide; opposite to
Chinese characters and definitions from:
---
On the importance of millet to early humans, including the Chinese:"Radiocarbon dating of seeds from archaeological sites across China and Mongolia, along with DNA studies of modern varieties, enabled the researchers to piece together a sweeping chronology and map of the grain's relationship with people.
Archaeological remains show that these millets became common in their north China heartland around 7,500 years ago. Seeds recovered from sites of different ages show signs of being domesticated and selected — namely, they got bigger and bigger over time. Human skeletons of the same age show that millets were a staple food source."
http://www.npr.org/sections/thesalt/2015/12/23/460559052/millet-how-a-trendy-ancient-grain-turned-nomads-into-farmers?sc=17&f=1001&utm_source=iosnewsapp&utm_medium=Email&utm_campaign=app